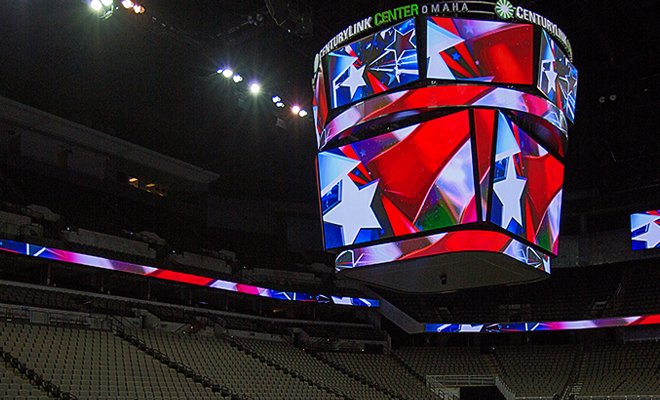 Arena LED Light Boards. We just wrapped up a project for Creighton University in Omaha Nebraska. We were tasked with creating several videos for Century Link's jumbo tron as well as the Daktronics LED light boards running throughout the arena. While these LED light boards are only several pixels tall, two in-particular run the entire length of the areana's wall. This creates a very irregular "super-wide" video resolution.
Standard resolutions generally fit a 4:3 "square/standard" or 16:9 "widescreen" aspect ratio. Entry level software like iMovie, Windows Movie Maker, and others easily create and export these types of videos. However, when you break outside of conventional video sizing, professional level software is needed. After some work in the editing studio, one of our editors found a solution and was able to set up a project spanning that width.
When we would export the videos, we would all have to lean in close to our monitors to see the scaled down file play at full width. Finally, at our test run, we were able to see the videos play throughout the arena at full resolution and it looked fantastic. There's just nothing like being there. Go Jays!
Click here to learn more about how technology can be integrated into your events!